Watch the video to find out
Suzy's whereabouts!
WHAT IS CEREBRAL PALSY?
A physical disability that affects movement and posture
Caused by illness or injury to the brain before birth, during birth or early in life
Therapy, assistive technology and surgery are options to maximise independence and quality of life.
JOIN OUR MAILING LIST
Receive updates on our latest events and initiatives!
How will my donation help?
Your contributions will go towards:
| | | |
| --- | --- | --- |
| Training sessions to help parents and caregivers provide better care for clients | Equipping clients with employable skills for better integration into workforce and society | Deploying the latest technology to help clients lead independent lives |
How far will my donation go?
$20
will help purchase a Bear Bottle Kit with unique valve for children who tend to aspirate or have oral motor difficulties to generate suction.
$50
will help purchase a customised hand splint to improve client's hand posture for better function.
$100
will help purchase one month's supply of diapers for students and clients.
$200
will help purchase a basic Assistive Communication Device for a non-verbal child.
$500
will help purchase a special seating cushion that fits to each client's size and needs for optimal pressure relief.
DONATE NOW
Your Kindness will Go a Long Way
"I enjoy coming
to DAC!"
- Jason Ong, client of Day Activity Centre (DAC)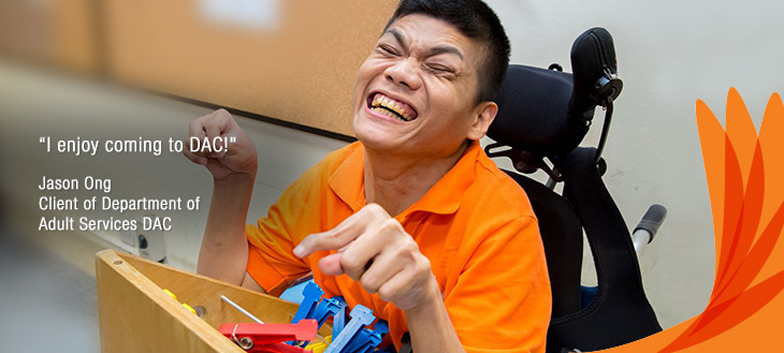 A client undergoing motor skills training under the Neurodevelopmental Treatment Clinic (NDT)
Through vocational training under Goodwill, Rehabilitation and Occuational Workshop (GROW), trainees are equipped with skills that build self-esteem and allow opportunities for self-development.
ABOUT CPAS
Cerebral Palsy Alliance Singapore (CPAS) is a social service organisation established in 1957. CPAS provides persons with cerebral palsy and multiple disabilities with early intervention, special education, rehabilitation services, day activity centre programmes as well as vocational training and gainful employment in Singapore. more»

Through active advocacy and the support of equal opportunities for all persons with cerebral palsy and multiple disabilities, CPAS hopes to empower these individuals by helping them realise their full potential and lead fulfilled, dignified lives. Built on core values of passion, integrity, care, and excellence, the organisation is focused on delivering fully integrated programmes and services at the highest standards. At present, we look after over 700 clients ranging in age from a few months to 55 years old. «Show Less